Naeema Arrastia is the Founding Partner for Why Nameus, a full service marketing agency. Take a look at the homepage. I'm exhausted just reading all the things they do! The amazing thing is, they do everything well. They're just not sleeping much at night.
I had the pleasure of meeting Naeema in my last Fast Track Growth Venture class.  She is one of the sharpest people I've met in the program. Her challenge was the same as every other service provider out there; she's working too many hours and not making enough money for her effort and sacrifice. Sound familiar?
The key to getting out of this head-banging dynamic is to take a good hard look  at all the services you offer and how much you make on a per hour basis for each one. That's right, you can't bundle here.
If you're a marketer, how much time does it take you to build a marketing plan?
How many man hours does it take to develop a social media plan?
How many man hours does it take to develop a logo?
You need to know the range. Most service providers like Naeema want to offer great value for customers so they'll price a job on a fixed cost basis. The customer pays a flat fee.
When the scope changes, your hours start to expand like a helium balloon. That's when you're losing money. Think about it, has a client EVER been able to make up his mind on the first go-around? Never. Plan and charge for it.
Here are five tips to remember:
Know how many man hours something takes.
You can't do everything and make money. Choose the services with the highest gross margin and kick butt on those. Reduce the services you offer. Focus.
Know how much your competition charges on a per hour basis and quote jobs that cover a reasonable fee for your time using that as a benchmark.
No contract or job should be completely fixed. The client needs to know if he changes his mind, the changes require a change of scope approval and the time required to make those changes is on the clock, outside the scope of the original agreement.The client must sign this to acknowledge they get it.
If a client calls and just wants to ask you one quick question don't get trapped. If the answer requires a two hour discussion, politely tell him that and you would be happy to send him an estimate of your consulting costs.
Give the client a short answer, don't snub them, but don't give your intellectual capital away for free either. Capisce?
For Naeema, a reasonable rate is $150 per hour for what she knows. As she racks up more and more success stories, that hourly rate will increase. The new year is always a good time to raise prices. We've all become conditioned to expect it.
The other way Naeema can capture more value for her time is to have a once a month consulting call with three or four non-competing clients. They can ask any question they like. It's like office hours for an academic.  They just have to pay tuition to get on the call!
These calls would be on a subscription basis, so everyone on the call would have to kick in a few bucks, like $100 a month. But having one hour of Naeema's time is well worth it.  The client gets good value and Naeema doesn't feel short-changed.
Four people on the call = $400 an hour.  That's what we call leverage. It's a beautiful thing!
If you're a subject matter expert on ANYTHING like raising hamsters, you can do exactly the same thing. You just need to find hamster enthusiasts!
How do you turn a healthy profit in your small business?
Our Instant CFO, Instant Marketing Manager and Instant Sales Manager Courses will teach everything you need to know about running a successful small business.  A $249 value for only $49. You get the Instant Marketing Manager and Instant Sales Manager Courses as a BONUS!
___________________________________________________________________________________________
Download Cash Flow Management Whitepaper
If you haven't done it already, download our cash flow management whitepaper.
It's free. I wrote it because no one else was talking about this stuff.
If you run a small business, you need to read it. Fast and easy.
Tell everyone you know who runs a small business they should read it too.
In your corner as always,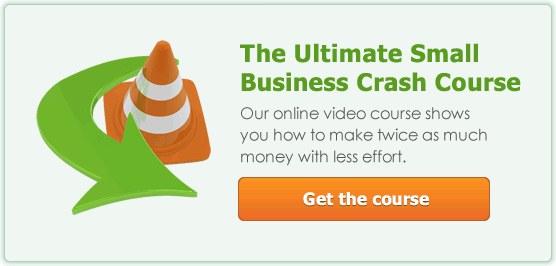 Related Posts:
Stay in the Loop