What Only a Select Few Have Learned:
How to Guarantee the Future of Your Business and Get a Staggering Revenue Boost by Listening to Your Numbers

An online video series that teaches you exactly how to…
Understand your financial dashboard so you can maximize your profits
Make minor changes to your business that will supercharge your cash flow
Instantly identify red flags that lead to costly and catastrophic mistakes
Dawn Fotopulos has been featured in:



Work Smarter, Not Harder
Are you working 16-hour days and not showing any profit? Do you wonder how much longer your business can stay afloat?
You're not alone.
You went into business to live the dream of being your own boss. But after years of plugging away, that dream can feel more like a nightmare. And if you can't read your financial dashboard, the nightmare often ends in bankruptcy.
Your business can be the success you've always dreamed of.
Small Biz Crash Course makes it easy and fun to learn how simple changes you make today can transform your business into the money-maker it should be.
It's all possible when you listen to your numbers.
It's All in the Numbers
Numbers are the lifeblood of your business. How much money you earn. How many customers you have. How much it costs to run your business. Yet, there's so little training for small business owners to help make sense of the numbers. Why?
Because numbers aren't sexy.
Numbers are boring, complex, and intimidating. They're the part of your business that you hate to think about. But they're also the part of your business that's most critical to its success.
That's why Dawn developed this course. She uses amusing stories and real-word examples that make these otherwise boring concepts fun and easy to learn.
A Course in Enlightenment
Small Biz Crash Course is an eye-opener.
The curriculum is aimed at teaching you how to spot the underlying problems that are stifling your business.
Each video builds on the one before it, unveiling simple strategies to maximize your profits and avoid crippling losses.
What's more, this is the only course you'll find that will help you truly understand how to read your financial dashboard.
You'll be surprised just how easy it is to supercharge your cash flow when you know exactly what to do. A few small structural changes are all it takes.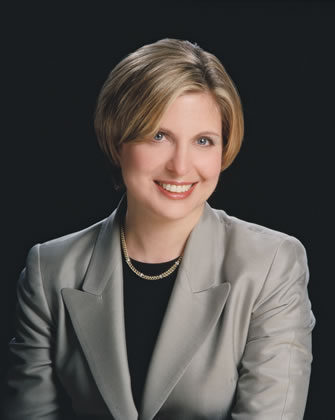 Meet Dawn Fotopulos
Dawn Fotopulos is an experienced entrepreneur and small business turnaround expert. She's rescued more than 400 small businesses, helping to unlock their true growth potential.
As a leading expert in her field, Dawn has appeared in MSNBC's "Your Business", the NY Times Small Business Summit, the Kaufmann Foundation's Fast Track Program, and Forbes.
Dawn specializes in "Ah ha!" moments. The lessons she teaches are so insightful — just like a light switching on in your brain.
Currently Dawn serves as the Associate Professor of Business at The King's College in NY. She's also the founder of BestSmallBizHelp.com, a site dedicated to helping struggling solopreneurs.
The moment you login, you'll have access to…
36 Video Lessons total
15 Accounting Basics Videos
11 Guerrilla Marketing Videos
10 Sales Secrets Videos
Video Review Sheets for each video lesson
Direct Support from Dawn and her Team
Small Biz Crash Course
is an online video training series
Here's what's included: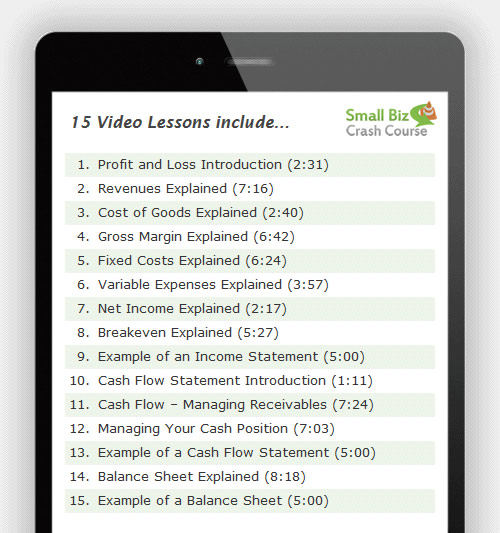 Accounting Basics
Expose the many "black holes" in your business that are draining your bank account (and time).
Determine your business's sweet spots, where you have the potential to make significantly more money without any additional effort.
Identify the tell-tale signs of bankruptcy and learn exactly what you can do to avoid it.
Reliably predict how much money you'll make from month to month, giving you and your family added security and peace of mind.
Master the art of negotiating pricing and project scope with larger clients to protect your bottom line.
Guerrilla Marketing
Pinpoint exactly which clients are losing you money and how to convert them into money-makers.
Learn how to price your products and services without giving away the store or pricing yourself out of the market.
Easily increase your sales without spending a lot of time or money. Your sales closure rates can double when you apply these simple tips.
Change up your marketing strategy to price higher AND sell more at the same time.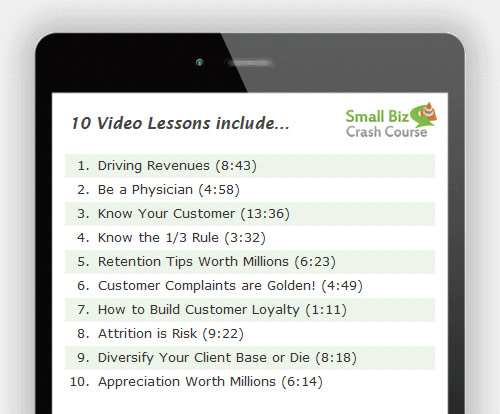 Sales Secrets
Discover an incredible method to earn more sales without having to hunt down additional customers.
Eliminate the frustration of constantly searching for new clients as you make more money from your existing clients.
Find out precisely how to close new business without ever having to cold call.
Start turning customer complaints into one of the most profitable parts of your business.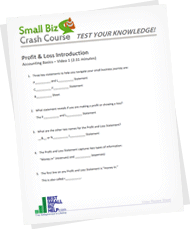 And More
Video Review Sheets
Every video lesson includes its own set of worksheets. You'll use them to help you to remember the lessons you learn and apply those concepts directly to your small business. Review sheets are available for download alongside each video.
Direct Support from Dawn and her Team
When you purchase the course, you'll instantly become a Small Biz Insider. This grants you direct access to Dawn Fotopulos and her team of experts. Ask us anything. We do everything from answering technical questions to sending you follow-up emails. It's sort of like having your own personal business coach.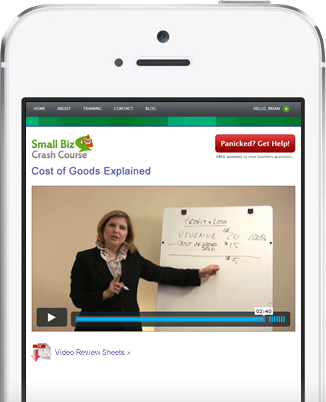 Anywhere, anytime,
for any schedule.
Running your business mostly happens away from the computer, so we created training you can take with you on the go.
Whenever you feel inspired — whether after work, while on vacation, or even during a lunch break, you can jump on and learn, at your own pace.

"Dawn knows exactly what small business owners are missing."
These videos are concise — perfect for us business owners with no extra time on our hands. I can get all the information I need in the time it takes to drink my tea in the morning! Dawn's instructional method is extremely well thought out. She takes complex ideas and turns them into understandable, tangible concepts everyone can grasp."
Amy Noelle, Cake Designer
Sugar Flower Cake Shop

"Dawn Fotopulos is simply brilliant."
Small Biz Crash Course is an incredible resource for small business owners. It's like having a private coach on call. You get all the perspective of a seasoned entrepreneur with fortune 500 experience. The information is practical, insightful, and easy to find when you're in a hurry. Dawn will make you smarter faster than anyone else in the business."
Daniela Weis, Founder
YAFA Marketing and Consulting

"My business has doubled since I've listened to Dawn."
For me, the ability to watch a short video describing simple accounting fixes is a relief. I don't have a lot of spare time (who does?) and I also don't have an MBA. Nonetheless, there are certain business disciplines, like knowing my gross margin, which are crucial to my survival. Every small business owner needs this information."
Frances Pelzman Liscio, Owner
Punks and Roses Design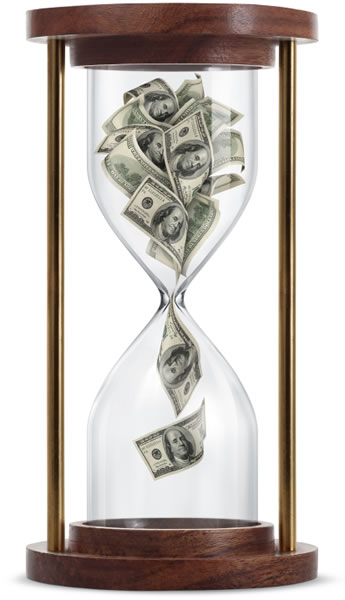 Money an issue?
For less than $1.87 per video, you'll gain lifetime access to our entire online video library. That's 36 lessons that grant you invaluable insight to forever change the course of your business. Once you put this knowledge to work, your additional revenue will pay for this course many times over. How can you beat that investment?
Time an issue?
When is it not? If you want your business to turn a healthy profit, then you need to make time for it. No excuses. The course is even self-paced so you can work at your leisure. Each video is short and sweet. If you have time to surf the web, then what's stopping you from getting started today?
Summary of
What You Will Get
Module 1: Accounting Basics — 15 videos
Module 2: Guerrilla Marketing — 11 videos
Module 3: Sales Secrets — 10 videos
Video Review Sheets — 36 sets
Direct Support from Dawn and her Team
Lifetime Access to Current and Future Content
After you complete the payment, you can create your account and log right in to access all of the training content. Your access is unlimited, forever.
Get instant access now
These little known strategies to leverage your financial dashboard can give your business an incredible boost.
Get Small Biz Crash Course now for just $67




Your Satisfaction Is 100% Guaranteed Or Your Money Back
If you're not 100% delighted, just shoot us an email,
ask for a refund, and you'll get every penny back
Answers to your questions
Not at all. Small Biz Crash Course gives you everything you need to quickly begin increasing your profits. There's no preparation necessary. You can start today, right now.
Yes. Small Biz Crash Course was designed specifically for business owners who avoid numbers. Dawn is known throughout the U.S. for her accounting talks for the number-phobic. She regularly receives standing ovations as so many business owners finally "get it." Give the course a try. You'll be surprised how easy it is to learn your financial dashboard with Dawn as your teacher.
Your accountant's job is to keep you out of an IRS audit. Period. He will not advise you on how to leverage your price structure, fine-tune your marketing, and sell more effectively. Small Biz Crash Course teaches you all of these things, without the hefty price tag. It's your business. It's up to you to know how to run it successfully.
Short — most videos take less than 10 minutes to watch. You've got a business to run. We know what that's like. So each lesson gets right to the nitty-gritty of what you need to know.
Sure. But why invest your hard-earned money in various marketing campaigns without understanding how to fully measure the return on your investment? That's like playing a game without knowing the rules. It's one of the most wasteful things a business owner can do with her money. This course teaches you how to market effectively while protecting your bottom line.
No time at all. (It doesn't ship.) The entire video library is available to you instantly when you login to the website. You can immediately access the entire course after entering your payment details, so you can get started today. No waiting required.
While this course isn't a quick fix, there are a few strategies that can give you a big revenue boost in as little as a week. Typically though, you'll begin to see some major positive changes in your cash flow in about three months.
Here's the truth: Until you understand how to read your financial dashboard, you're going to continue to drive blind. But once your eyes are open, a few simple tweaks are all it takes to boost your revenue.
60 Day No Questions Asked Money-Back Guarantee
If for any reason what-so-ever, you're not happy with any aspect of this course and its contents, then simply contact me and I will immediately refund 100% of your money, no-questions-asked.
In other words, all of the risk is on me!

Dawn Fotopulos, BestSmallBizHelp.com
"Dawn's course is all about gathering more profits with the same amount of work. Dawn takes out the boring fluff with humor and step-by-step help. Anyone who runs a small business or is thinking about it should use this resource."
Mike Zumchak, Founder & CEO – Easy Excel Classes
"Watching these videos should be required before anyone starts a small business. Dawn's course has completely changed the way I do business. I've started making more money right away just from making one or two small changes in how I priced my services."
Laura Reddy, President – NY3 Design Group
"Dawn is insightful, patient and able to sense all the problems most small business owners face. She targets ways to make more money with the same or less effort. Her lessons were life- changing. After applying Dawn's concepts, I had thousands of dollars in the bank."
Denise Zitzmann, CEO – Zitzmann Photography
"I've always had big dreams, but wasn't sure they were fully attainable until I took Dawn's course. It was the best investment I could've made. Now I have a road map to attain my business goals."
Chris Okada, President & CEO – Okada & Company
"I never understood what it meant to 'manage accounts receivables.' My cash flow grew by leaps and bounds after I listened to Dawn."
Stephanie Baxter, Partner – DP Lorana
"Dawn showed me where my highest potential target audience was. That conversation changed my life. My clients pay me a premium. My hourly income has tripled."
Andi Pema, President – The Tech Man IT Consultant
"After listening to Dawn, I changed my pricing structure. If I hadn't, I would have been on the road to bankruptcy without even realizing it."
Angela Price, President – Rum Cakes
"Dawn Fotopulos's insights are simply stunning."
Carol Hyatt, NY Times Best Selling Author: The Woman's New Selling Game: How to Sell Yourself and Anything Else
Get Small Biz Crash Course now for just $67




Your Satisfaction Is 100% Guaranteed Or Your Money Back
© 2009-[phpyear] DF Consulting, Inc. All Rights Reserved.
Design by Bri the Web Guy