About Best Small Biz Help
BestSmallBizHelp.com was created to help solopreneurs like you make your small business more profitable and highly successful.
We offer several tools to help you meet the challenges of running your own small business — nearly all of them are completely free.
Get the Free eBook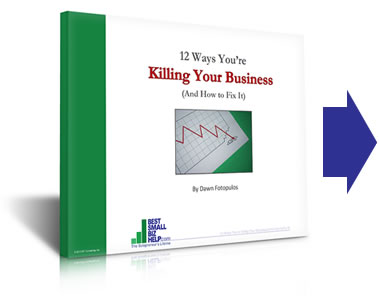 After working with thousands of struggling small businesses for over twenty years, we've discovered 12 critical mistakes that so many small business owners make. It's probable that you're unknowingly guilty of at least a few of the 12 Ways You're Killing Your Business. And now you're going to learn how to fix them, one by one.
Dawn Fotopulos, the creator of BestSmallBizHelp.com, authored this free eBook to teach you all about these twelve catastrophic mistakes that could cripple your business.
Simply enter you email address (at right) to gain instant access to this valuable set of "fix-it" instructions.
Need Immediate Help? Use the Panic Button!
Many small business owners who discover our site are already in need of serious help. They've poured their heart and soul into their business and still aren't making a profit. If this sounds like you, there is hope...
Our BIG RED PANIC BUTTON (found at the top-right of every page) gives you 24/7 access to Dawn Fotopulos and her entire team of small business experts. Together, they are dedicated to a profitable future for your business.
Using our Panic Button is completely free. We'll typically get back to your within 1-2 business days.
Is Your Business Failing? Here's How to Save It
If you're working long hours struggling to keep your business afloat, and you have no idea why all your hard work isn't paying off, we've got some good news...
If you can drive a car, you can turn your business around.
Check out the four-part series: How Can I Save My Business?
Take the Small Biz Crash Course
A crash course is a rapid and intense course of training, usually undertaken in an emergency. If your business is on the verge of collapse, THAT'S an emergency.
BestSmallBizHelp.com's Small Biz Crash Course was uniquely created for struggling small business owners. The course includes 36 short online video lessons that you may view anytime, as often as you like. At only 5-7 minutes each, they're the perfect length to watch whenever you have a free moment.
This online video series teaches you exactly how to...
Understand your financial dashboard so you can maximize your profits
Make minor changes to your business that will supercharge your cash flow
Instantly identify red flags that lead to costly and catastrophic mistakes
About Dawn Fotopulos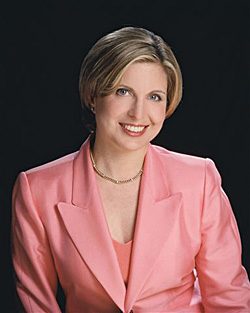 Professor Dawn Fotopulos is Founder of BestSmallBizHelp.com. She created this website so that thousands of small business owners could pick her brain at the same time.
Dawn currently serves as the Associate Professor of Business at The King's College in New York. She's also a serial entrepreneur who's been in the trenches for over twenty years.
Visit Us Anytime
Bookmark this website and drop by anytime to enjoy Dawn's humor and learn from her and her staff.
The site's blog posts and small business training videos offer real-world tips and advice to improve your cash flow and greatly increase your income.