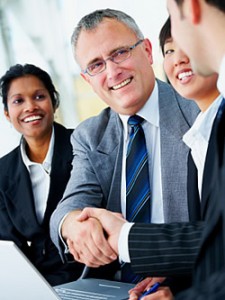 Phil Clements of Cathedral Consulting told me $4 Trillion (with a "T") dollars of revenues  from small businesses owned by Baby Boomers either need to sell their businesses or retire in the next ten years. This article comes to us from Debi Peverill CA to help you consider what it takes to find a buyer for your business.
"As the Baby Boomer generation begins to decide they would like to spend less time working, many are looking to sell their businesses. There are not as many people interested in buying businesses as there are in selling businesses. Because of the reality of the demographics, businesses owned by Baby Boomers will be sold in a buyers' market.
The fact is, a buyer's market does not mean you will be unable to sell your business. There are still buyers out there. Some of them may be working right in your business, as your trusted partners or employees. You need to consider all the possibilities to find the best buyer.
Partners Or Shareholders
If you are not the only shareholder in your business, it is possible one or more of the other shareholders might be interested in purchasing your shares. If this is the case, your shareholder agreement likely covers this situation.
Employees
The advantage of selling to the employees who work in your business is they understand the business. The disadvantage is they do not usually have the money required to buy you out. If you are considering selling to your employees you will most likely end up doing some of the financing as a vendor take-back, due to the lack of funding on the part of the employees. The length of time you want to wait for your money will determine the length of the vendor take-back.
Competitors
Competitors understand the business and may have the money to purchase your business. The process has to be undertaken carefully. You will want a non-disclosure agreement signed before you give any competitor your financial statements. Recognize they will still know your business even though the agreement says they cannot tell anyone.
Customers
Maybe one of your customers is interested in purchasing your business. Let's imagine you are a drafting business and one of your biggest customers is a firm of architects. They may decide it makes sense for them to buy your business and set up their own drafting department within their business. Take a look at your customer list and see if you can spot any likely candidates.
Giant Corporations
Maybe your business would be a good fit for a large conglomerate which does not yet have a business in their stable which does what you do. These organizations can certainly afford to buy your business, but recognize they will drive a hard bargain.
Foreign Nationals
Perhaps your business could be sold to a person who wishes to immigrate to Canada. Individuals in this position may be eligible for a government program which requires them to make some sort of investment in Canada to be permitted to immigrate.
Strangers
If you cannot think of anyone to approach about selling your business, it is possible to advertise your business for sale. It might be time to consider hiring a broker. A broker will assist you with the whole process of selling your business.
Take the time to evaluate all potential sources of buyers for your business. You want to get the best possible price. To do this you need to be sure you have exhausted all the realistic possibilities."
————————
Debi J. Peverill CA is an accountant with a sense of humour. She has written 11 books for business owners and is in demand as a speaker. Learn more business strategies at http://www.Peverill.ca
Source: http://www.submityourarticle.com
Permalink: http://www.submityourarticle.com/a.php?a=211426
Stay in the Loop