Small business management strategies to reduce costs is all about making more profit while reducing expenses. It's about making your sales process more efficient.
I was at a Business Networking International breakfast this morning (yes, I got up at 5:30AM to get there, ugh) and met up with Amy DeGiulio of Sugar Flower Cake Shop.
Amy makes these incredible cakes and she's making some changes to how she interacts with sales prospects that is absolutely brilliant.
In the past, Amy would meet wedding planners or brides to be at special events and set up individual times for them to taste her cakes.
These one on one sessions would take up a whole week out of a month! That means she's spending 25% of her month in sales.
What if Amy could showcase her cakes and gorgeous flowers, meet and greet these prospective customers to answer their questions in a day instead of five days? Time is money, right?
That would reduce her marketing expenses for every sale she made. Here's what Amy decided to do:
She would hold a reception once a month for a cake tasting. At this reception, she would ask a photographer, wedding planner, someone related to the industry to talk about how to make the most of your investment in these services.
If someone wants to take the next step to get a sketch of a cake idea, Amy charges them $100 for her time and for the sketch. That charge can then be applied to a cake order if they order from Amy.
The customer has an incentive to do the deal with Sugar Flower Cake Shop and Amy gets compensated for her design.
If they decide not to purchase the cake, Amy has received some payment  for her design. The client can try to have the sketch executed somewhere else, but of course, Amy DeGiulio's designs are one of a kind!
Everyone wins. Amy has closed a lot more business faster, which translates to reducing her cost per sale. She's done this in a recessionary economy. That's a huge deal!
That means for every revenue dollar she brings in, she's making more profit. She should be. Everyone wins. Amy can invest in providing a large array of cake products she sells because she has the prospects in one place at one time to make it worth her while.
Prospective customers win because they get to taste all of Amy's wares and meet great resources too.Always add value for your customers. That's the key to small business management strategy and reducing costs.
Your customer satisfaction will climb if you collaborate with great resources they can depend on. Amy's not just providing cakes; she's become a service hub, introducing related professionals to her market.
Sugar Flower Cake Shop becomes a lot more efficient because Amy is spending less time and closing more business while maintaining the professionalism and quality she's known for.
At Best Small Business Help we call this small business sales strategy "fishing with a net and not with a rod".It not only helps close business faster, but it cuts marketing expenses because it reduces the time it takes to qualify and to reach your prospects.
Can you create an event or reason to gather your prospects at one time? Don't pay for a conference, create your own reason to gather like-minded people or prospective customers that have the same concerns or dreams.
Keep your eye on Amy. I think someday soon, you'll see her on the Food Channel. Cake Boss? Look out! There's a little competition on the block…..and she's got strawberry blond hair, a big bright smile and magic in her hands.
For more small business marketing help and stories keep reading and find your niche.
If you need more small business marketing tips, watch our training videos here. Are you stuck? Hit the Panic Button. It's the only live help desk online for busy business owners. Experts are waiting to help you. Click here.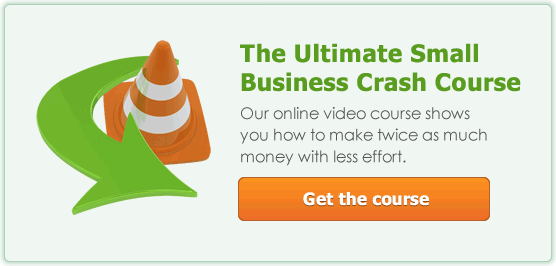 Related Posts:
Stay in the Loop