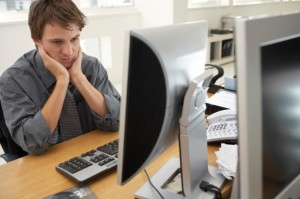 Small business bank statements can feel like a hassle, but Ed Becker, CPA warns us, ignoring them can really cost you.Thanks, Ed!
"Many business owners believe that simply logging into their bank accounts to review their cash balances is a substitute for reconciling their accounts.  This can be a $100,000 mistake, as I'll discuss in an example below.
An organized review, ideally accompanied by statement reconciliation, is critical in detecting fraud, spotting duplicate payments and verifying that deposits are posted to your account in a timely manner.
In addition you may spot high fees your bank is charging, which may be a sign you are in the wrong account type or need to switch banks. Banks will not go out of their way to inform you that they are charging you for every bounced check.
Example: A client who had not looked at their statement for an entire year was being hit with bounced (NSF) fees each day ranging from $30 to hundreds of dollars.  At the end of the year fees had totaled over $120,000 for a year. What a waste of money and profits that would have been prevented by simply spending minutes each month.
10 "Red Flags" for reviewing your statements:
1.      Look for unauthorized ATM withdrawals if you have employees and/or business partners with additional cards
2.      Review all bank charges and don't hesitate to ask the bank to reverse these and/or negotiate the fee structure
3.      Scan all debit card activity to verify authenticity and or duplicate charges
4.      Watch for small amounts usually less than .25 cents hitting your statements  as this could be a sign that a hacker is phishing for a live account to hit up bigger in the future
5.      If you detect fraud and do not promptly report this to your bank you may lose the right to pass the liability onto the bank
6.      Watch for any monthly charges coming out to ensure that amounts do not increase without authorization
7.      Carefully review charges for services that you may have cancelled
8.      Review the sequence of cleared checks to detect any fraudulent checks possibly being presented
9.      Are all deposits you made during the month actually in your account? Banks do make errors even though the error rate has dropped significantly with advances in technology
10.   If you are not sure about any activity on your account, ask your bookkeeper, ask your partner, ask your bank but don't ignore it
The few minutes each month it will take to review your statement can save you time and money. Successful business owners stay involved in the finances of their businesses because they know detecting problems early is the best way to avoid losing large sums of money in the long run.  Being in tune with the financial health of your company will also allow you to make smarter decisions and react to both dangers and opportunities faster."
About the Author: Edward Becker, CPA, is President of Outsource Your Books (OSYB). OSYB provides expert outsourced bookkeeping services and empowers business owners with financial reports that help them make smart decisions.  For a free consultation on whether outsourced bookkeeping is right for your business, contact Ed at (516) 393-5620 or email [email protected]
Stay in the Loop