Even if you do hire a bookkeeper, you have to be able to give them something to work with. So here's how you should think about starting the bookkeeping process.
Step 1: Managing Receipts.
Get an expandable file. I know it's low tech. So what? It works.
Put your expense categories on each tab. You'll be filing the receipts from expenses you incur during the year in this file. You should have one new expandable file for each year.
Any expense that is directly related to your business could be written-off the business income at the end of the year, but only your accountant will know for sure. You'll want to save all your receipts, just in case. If you incur an expense, make sure you put the purpose on the receipt first before you file it.
I try to be efficient in my filing system. I put all my receipts in one envelope until I can enter them in Outright or QuickBooks and then file the paper in the expandable file by the end of the week. Make sure to schedule the time to enter your receipts each week.
You should have already made a chart of accounts (if you don't know what that is, check back tomorrow!). Now it's time to put those accounts in an accounting system. We like Outright.com because it's very easy to use and creates incredible management reports (including pie and bar charts) with just one click. It's more intuitive than QuickBooks. While QuickBooks may be the standard, Outright is easier, super-compatible, and gets number-phobic people off the couch. It is free for one month, after that it's $10.00 per month and you can cancel at any time.
The drop down menu will ask you to input your revenue and expense categories. Just fill in the blanks by copying your categories from your notebook you created from reading our last post. Find tips here.  It shouldn't take much time.
Step 3: Filing Receipts
You can use paperless options like Neat Receipts to scan all your receipts and file them electronically. I still like to keep the paper version, just in case.
I gather all my receipts and file them weekly after I've accounted for those expenses in my bookkeeping software.
Verizon bills get filed under "phone," Electric bills get filed under "utilities." If you have to pay for water, it might go under "utilities" as well.
Last, I keep all the bank statements and credit card statements for the business in the expandable file too. Any bank withdrawal or deposit tickets get filed with the statements every month as well.
When the bookkeeper comes in  at the end of the month to make sure all the files are up to date and to reconcile the bank statements, everything will be in order, and it will take up a lot less cost and time.
If you keep up with filing your receipts, you won't lose your mind when tax season rolls around.
Step 4: Look At Your Reports Monthly
Now that you've entered all your revenues and expenses this month,  look at what happened. How much money in revenues did the business generate? What did you spend on phones in the last three months? How about rent?
If you're using Outright.com, it  will provide you with all the reports your heart desires. I like to create pie charts with pretty colors. The contrast helps me see comparisons in expenses. Bar charts help me see trends over time.
It's important to keep track of all your financial information. By keeping your accounts in order and organizing your bookkeeping process, you'll have more time to spend where it matters most-with your customers. Check back tomorrow for a post on setting up a chart of accounts!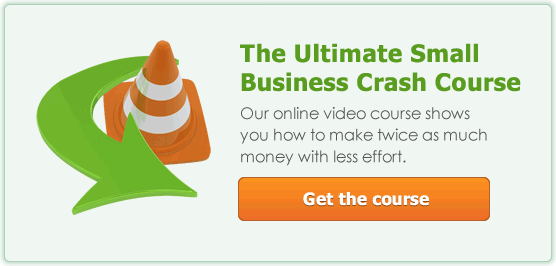 Related Posts:
Stay in the Loop