When Sally Mengel and Rachel Moore debuted Loblolly Creamery in 2012, they could not have expected how wildly popular it would become in just two years. Both relied on previous restaurant experience as they tapped into the growing local, artisan food community in Little Rock and developed ice cream flavors that are created from scratch using locally-sourced, fresh ingredients. The partners work together amazingly well. Just sitting and talking, they regularly finish each other's thoughts in a back and forth banter that's both laid-back and charming.
When the Green Corner Store in Little Rock, AR, where Sally worked, found a period-accurate soda fountain, she jumped at the opportunity to sell ice cream treats and sodas, capturing a tradition from the store's past as a pharmacy. She knew she would need help, so she reached out to Rachel to help create a product, including her background in vegan and gluten free pastry.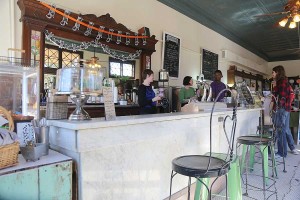 Loblolly Creamery was formed as an independent company, but it continues to use the soda fountain as its primary location. A bit of research revealed that there were no similar artisan ice cream businesses in Little Rock, "or even in the state really," says Rachel. "Nothing really using local ingredients and nothing really from scratch." Their commitment to healthy, fresh ingredients is what separates a Loblolly creation from the big-brand fare in the average grocery store. It also means more work for the pair — requiring 48 hours to produce any of their flavors. "Ice cream is a different process [than baking] because it takes 48 hours for us from start to finish," explains Rachel. "We spend the first day making the ice cream base and then we have to let it sit overnight and chill and age. Then once we churn it the following day, it's got to sit for six hours or so at least to harden again, so we can actually scoop it here at the soda fountain. So it's a mix of active work and down time. And a good amount of planning. We pretty much have to know what flavors we're going to make the weekend before the week we make them."
Their first hurdle when they began was creating their signature vanilla base. "I had a few recipes that I used before," says Rachel. "I kind of scaled them up and tweaked them a bit. I made lots and lots of vanilla ice cream at home and gave them to people and had them taste it. It took months and months to get it where I wanted it to be. Once I decided that flavor was where I wanted it to be, I just based everything off of that.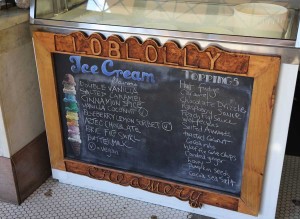 The process of picking additional flavors can take a bit of juggling as they work with what their customers want and what ingredients are available. "We get customer recommendations. Sometimes it's based around whatever the farmers are able to provide for us that week." Flavors change every day with a few exceptions: "We always have something chocolate. We always have the double vanilla and salted caramel. We try to have at least two vegan things all the time." The variety makes each visit to Loblolly a new adventure, while providing stability for those who like to stick to the traditional favorites.
A friendship with one of the chefs from local restaurant Trios led to a partnership and now Loblolly desserts can be found in other venues around the city. "We try to create things specific to their menu. They can have signature flavors that only they get or a rotating set." Their partners enjoy having specialty desserts for their customers, while Loblolly benefits from the advertisement. Each of their partners is a bit different. "South on Main prefers to have a rotating set. They usually have vanilla and chocolate sorbet and also seasonal flavors." The challenges they present are also fun for Sally and Rachel. "It's a lot of fun being able to tailor a menu item to someone else's menu."
The ladies of Loblolly are constantly working on marketing their desserts. One of their biggest mistakes early on was focusing time and money on what turned out to be low yield opportunities. "Being really careful about what marketing you invest in," according to Sally is the key to being successful in promoting their brand. "Know what works best in your area before you do anything," adds Rachel. What does work? According to Sally, "mostly things like Facebook events work really well." "And then doing special events like festivals," says Rachel. "Partnering with other businesses so you get the double advertising." "And getting written up in food blogs and articles. Being on TV and the radio," says Rachel. They both agree: "free PR is the best."
Their strategy takes legwork and a lot of personal networking, but it produces excellent results. Today, Loblolly Creamery produces ice cream for wholesale, special events, catering, and sale in their soda fountain. Their growth has been both strategic and customer driven. They sell pints (which customers favor) of ice cream through local markets and their custom soda fountain drinks can be found in several local restaurants including the popular Big Orange. "Our main thing is being a retail place for people to come enjoy a really good ice cream, sodas and sundaes and shakes. The wholesale thing is a just really nice PR and a good revenue base. We like the restaurant side of wholesale better than the grocery side because grocery is really competitive. Most of your costs come from packaging," says Sally. "It's very time intensive as well to package everything and label everything the way you want it and then you have to deliver it," says Rachel. Sally laughs, "We would be happier plopping dipping cabinets in places but people want the pints. So it's hard because that's what the customers want: they want the convenience. It's hard to train people out of the convenience."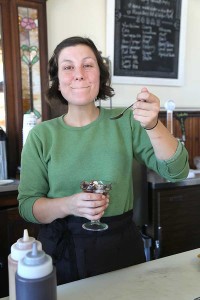 Loblolly's growth was so quick that it has left them scrambling to keep up with demand. Sally recommends that other small business owners be careful of "saying yes to too many things in the beginning. I think it's ok to just do one side of the business for a while and get those kinks out before you branch into a bunch of different things. We've had a steep learning curve since we opened the soda fountain; and doing wholesale, and catering, and special events all at the same time has been a lot."
The business is run on a small staff of "three people and then a couple of other staffers to help in the kitchen or serving ice cream." This is intentional. "If we were to grow that large to work with retailers like Kroger, we would lose control over our product and I'm not really comfortable with losing that amount of control," says Rachel. By staying small they can make headway into the foodie and artisan food markets in the local community while upholding their standards for the desserts they serve.
One of their best decisions was going to the Penn State Ice Cream Short Course. It was an intense few days that taught them the chemistry behind ice cream. "It's a lot easier now to trouble shoot," says Rachel. Their product has improved with what they learned, and it gave them an unexpected opportunity to compare their work with major ice cream producers across the country. The pair gained new confidence in their business and their community focus. "We're okay with our shelf-life being a month, which is against what most major companies strive for." Sally adds, "It's tied really strong to our neighborhood. The Green Corner Store is on South Main Street and it's been kind of revitalized since the tornado of 1999 [which did significant damage to the surrounding area]. We've created a community space for people to have ice cream. We have a non-profit flavor each month. The non-profit gets to create a flavor and then half of that sale goes to them. Then to educate the community about the non-profits is fun." They hold events in local parks and gardens and festivals. "We're the reigning non-traditional champ two years running at the Cornbread festival."
"The first time we ever made ice cream was for the cornbread festival in November of 2011," says Sally. "The day before the cornbread festival we had gotten an ice cream machine." "We had no time to practice," interjects Rachel. "It was our first ice cream," says Sally. "It was buttermilk and if we had compared it with today, I think I would have spit it out. But people loved it and it provided the push that we needed and the confidence to open the soda fountain. And we won our category with that."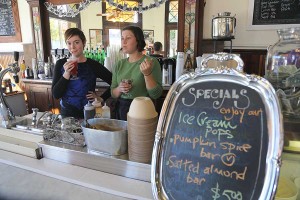 Loblolly has grown exceptionally well for a business that began as a fun experiment. Neither of its founders have a formal business education, but they know how to listen to their customers. They are constantly on the move looking for ways to grow. They recently debuted their food truck at a local food festival. "We sold out, it was really good." Expansion comes with its own growing pains. "We doubled our customers this year." They moved into a new kitchen in the spring and their focus now is strengthening their business processes to ensure they have the ability to continue meeting demand with quality products. "We are a very unique business so people are curious about us." Their location near the River Market District helps bring in tourists and foot traffic. They are also surrounded by other artisan businesses that draw in customers who like those local kinds of products.
To keep their business on solid footing, Sally and Rachel make use of the class offerings from the Arkansas Small Business and Technology Development Center and are about to work with the folks at SCORE reviewing plans and practices.
Where do they hope to be five years from now? "Five years from now hopefully we have that bar and everything squared away and maybe another location," says Rachel. "Having more dipping cabinets in coffee places, maybe expanding our wholesale restaurants," says Sally. "Me and Rachel have more time off." She laughs, "We're joking. That's not going to happen." "Just some time off," quips Rachel. "We're really heavily event driven," explains Sally. "A lot of businesses you open your store and hope that someone comes through the door, but we go out. We're doing something every week. Like this week we're going to be at the hot pepper eating contest at The Root Café, serving spicy ice cream and of course non-spicy ice cream." "I think that's what brings a lot of people in is coming to them," says Rachel.
Eventually they would like to add more flavors. Also one of their primary goals as they grow is to become more environmentally friendly – "freezers use a lot of energy." They would like to reach a place where "we are composting and recycling all of our waste." Because when it comes down to it, Loblolly Creamery is about the community. "Making this a happy place for all of the employees and a living wage for them if we can, that's what we strive for."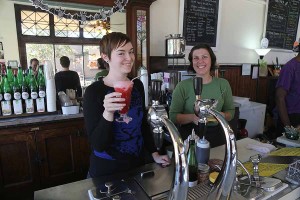 Sally and Rachel spend their weekends running around building relationships with their partners and customers and it can be draining: "keeping that momentum is the hardest part." But their efforts are worth it. A child giggles in the background as customers enjoy an ice cream cone. "It helps to know that we're not lugging coolers full of dry ice around town for no reason."
Sally and Rachel are making use of small business resources, like the Arkansas Small Business and Technology Development Center and SCORE, to make sure they grow their business right. Do you know what business development resources are in your area and are you making use of them to get input and perspective on your business plans and practices?
Loblolly is finding a number of ways to connect with and become a part of their local community. If you have a retail business, how are you engaging with your community? If you are an online business, how are you building connections with your online customers? And if yours is a B2B business, what are ways you are connecting with the business community? Are there things you could be doing that you are not doing now?
Sally and Rachel spend a lot of time bringing their ice cream to events, connecting with folks who may not know their product yet. This builds their brand recognition and brings customers to their retail outlets. What are ways you can go to where your potential customers are, introduce your product or service to them and gain new customers?
This post is part of the series Small Business Success Stories! Read more here.
Claes Jonasson is the owner and founder of Film & Company, LLC.  He likes to draw and write fiction when he can grab a few minutes between media and design projects. 
Stephanie Jonasson is a writer for Film & Company, LLC. When she is not helping small businesses define their brand, she enjoys curling up with a cup of tea and a good book. 
Together, Claes and Stephanie design websites and online presences for small businesses and non-profits, helping them tell their story and connect with customers.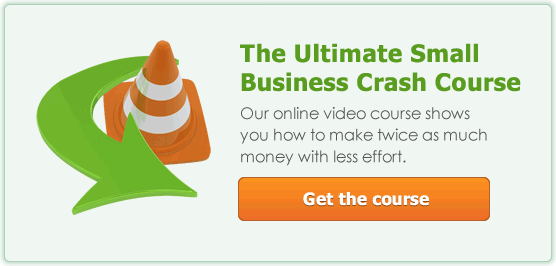 { 0 comments }