Ron Frost is a soft-spoken man who would rather let his work do the talking – and it never stops. His small business, Frost and Associates, does beautiful construction and remodeling work in Little Rock, Arkansas. With his team and network of subcontractors, Ron can tackle large or small jobs with an eye for detail and cleanliness that impresses his clients.
Ron came somewhat late to the small business game: "After working for a family owned business for 32 years, and not wanting to get back into corporate America, I just felt that would be best for me. I wanted the freedom."
He chose to start his small business using his talents for renovation that had already been put into practice in his own and his friends' houses.  They gave him glowing feedback on his work so he began to find smaller jobs that could be balanced with his work schedule.
Many people, including a CPA and a friend in the construction business, gave him valuable advice about starting his company in the Little Rock market. He listened to their advice and added it to what his years as a hobbyist had taught him.  Avoiding the temptation of just jumping into a small business, Ron chose to continue working his job while picking up projects in his free-time. This gave him a steady income while trying to build his network of clients.
Money was tight at first. "I had money to start, but not really start-up capital," and that is the one thing he wishes he could change about the launch process. Saving for start-up capital while trying to build a network and start working on the new business is incredibly difficult, creating barriers that could be removed otherwise.
He combated the high costs of equipment by buying used as often as possible. "When I started out in 2001, I had a Nissan 240z fastback. The first big job I got was a deck and I built that deck out of the back of that vehicle. Each day I'd have to load and unload it. Then I bought a used Ford van with lots of miles on it and went from there." The work was difficult but it kept him from dipping into what little reserve he had.
Most construction firms run on the model of a manager who spends most of his time traveling between sites to oversee their progress. Ron stays away from this model as much as possible.
"The most important thing to me," says Ron, "is the company has my name on it. The work has my name on it and all we have is our reputations. I didn't want to go that route because I get great satisfaction out of doing it. It's my name: if it's done great, I did it great. If there's a problem then it's my problem and I correct it. A lot of the customers become my friends."
It is, however, a juggling act that keeps him on his toes. "You have to see the client, research, estimate the time, schedule sub-contractor visits, watch all your p's and q's, and pay the bills. You don't just work 40 hours a week."
He manages this chaos by working with sub-contractors who he trusts, and many of whom are also independent business owners. "I learned a long time ago to use my resources. That's why I have a specific plumber, a specific sheet rock technician, a specific electrician: because they know their business."  He in turn knows their work and can trust them to manage his clients the way that he would. Ron's business is built on referrals from satisfied customers.
Running a small business has taught Ron two things: first, "keep the reputation and don't cut corners. Second, "do better on estimating."
He will complete a job correctly even if the original estimate was too low to fully cover the work. It hurts his bottom line but saves his reputation, and shows him where he needs to adjust for costs in the future. Thankfully, he has gotten much better at setting estimates as his experience in the industry has grown.
The first rule of keeping his clients happy is: "Treat their property like it's my own. I get upset when there is dust on furniture." There's no way to avoid making a mess when doing construction, but he and his team work to minimize it by putting down cloths and cleaning meticulously at the end of each day.
"There are so many rip-off artists out there. The construction business has gotten a bad reputation," he says. People are eager to find someone they can trust to care for their homes and provide services as requested.  "I've had clients for 10 years that you just keep going back and doing business for them." He laughs "or they move"; which means even more business. "I get to know my clients. I get to know about their kids and grandkids. I go to know about their dogs."
Not every client provides the same opportunities for Frost and Associates, whether due to conflict between schedules or visions. Ron has worked with realtors and designers at different points, who brought him quick projects that required a short (24 to 48 hour) window for turnover. He prefers to do work with quality and timeliness and could not ensure the same quality on impromptu jobs that took him away from existing projects.   So, he made the tough decision to fire them as clients. His solution: "You have to get out and network."
Frost and Associates is in a seasonal market that consistently looks to the quality of Ron and his teams' latest work to determine their value. The opportunities for growth are endless as long as he can maintain quality work.  Ron has no respect for people who mislead their clients or fail to follow through on promised services. It is a selfish instinct, "I don't know how those yoyos stay in business." Instead, he goes where his clients and the market lead, "Listen to them and you learn things." The home in the pictures in this article recently went on sale (shortly after Ron was finished with its renovations) and sold for $2 million - a very handsome price in Little Rock.   If there is one thing this quiet man is good at, it's listening.
Ron Frost has had to "fire" some of his clients to further the success of his business. What clients or accounts may be holding you back and what are you doing in response?
A lack of start-up capital made it difficult for Ron in the first years of his business. How have you prepared for the financial needs of starting your business? What are your financial plans to meet demand as the business starts to grow?
Ron is a stickler for cleaning up after his team has worked on a job site out of respect for the property's owners. How do you show your clients that you care about them? 
This post is part of the series Small Business Success Stories! Follow the rest of the series here. 
Claes Jonasson is the owner and founder of Film & Company, LLC.  He likes to draw and write fiction when he can grab a few minutes between media and design projects. 
Stephanie Jonasson is a writer for Film & Company, LLC. When she is not helping small businesses define their brand, she enjoys curling up with a cup of tea and a good book.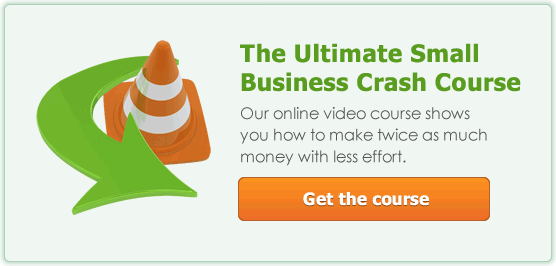 Related Posts: