Celebrate Small Business Success Stories
When business owners know how not to fail, only then do they experience profitability and success.
I invite you to take a few minutes to meet some exciting, ambitious, and forward-thinking business owners who know where they're going and, more importantly, understand what they need to do in order to minimize risk and failure and increase their odds of survival and success.
Small Business and 911
There were so many casualties that day. My heart goes out to all the families who lost loved ones.
One casualty that rarely gets attention is what happened to the small businesses that closed because they couldn't afford to pay their bills while the area near their stores was devastated by the attacks.
The Levin Institute for Entrepreneurship in New York City received a grant from the Kauffman Foundation to train thousands of small business owners through their Fast Track Program.
The goal was to help them start businesses and grow existing businesses to help the local economy. It was free to participants. What a deal.
I had the honor of being in the first class of certified facilitators for that program.  It's hard to imagine that was thirteen years ago.
Small Business Owners that Thrived
Many of the small business owners are still in touch with me.
Amy Noelle of Sugar Flower Cake Shop went from being an actuary,
to being a national figure in elite cake baking and decorating.
(Yes, that photo is a cake with sugar flowers made by hand. It's all edible except the urn. Unbelievable.)
Michelle Ward of "When I Grow Up Coach" has become a sought after speaker.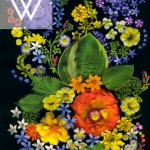 Frances Pelzman Liscio of "Punks and Roses" just had one of her spectacular botanical prints published on the cover of Wellesley Magazine.
There are so many more successful small business owners.
I am so proud to know them.
In the acknowledgement section of my book, Accounting for the Numberphobic, A Survival Guide for Small Business Owners, AMACOM Books,
I said that they are the inspiration hidden between the pages.
They are and always will be.
I pray a safe remembrance to all in our wonderful city.
Bonjour Creperie- Sweet Success
Philadelphia is a city known for its historical richness, and perhaps just as much, for its incredible food.
During the summer the city hosts handfuls of outdoor events, and ubiquitous at these events are the famed Philly food trucks. The food truck craze has gotten so big that there are festivals dedicated solely to showcasing the splendor that is Philly street food.
One of the biggest festivals, Night Market Philadelphia, has attracted over 200,000 individuals and 300 vendors to its pop-up events held in some of the city's most lively neighborhoods.
Attendees roam the trailer-lined streets, surveying and sampling everything from cheese curds to Asian fusion tacos.
The decision-making process takes time, as there are only so many craft gnocchi and Maine lobster rolls one can stomach, no matter how delectable.
Vendy Award Winner
For this reason, the culinary competition can get intense, but the reward is sweet for the vendor who draws the greatest following: the coveted Vendy Awards.
This year, husband and wife team, Jean-Pierre and Rebecca Bisilliat captured the Vendy for "Best Dessert" with their bright-orange creperie-on-wheels, Bonjour Creperie.
It wasn't a mutual love for good food that initially joined the accomplished artisans.
Jean-Pierre, a Brazilian-born horse-lover, lived with his grandparents in France from ages five to 13.
He moved back to Brazil until age 33, when his work as a horse photographer brought him to the States to cover various shows.
He met Rebecca, a Philly native, at the farm where she trained horses. The two now live in Bucks County, Pennsylvania.
Bonjour Creperie
So why crepes? "Both of us love food," Jean-Pierre said, describing his and Rebecca's fondness for the Food Network channel.
He shared that the couple first thought of opening a Brazilian food truck, but decided against it after considering how difficult it can be working with barbeque and meat. For Jean-Pierre, crepes seemed like a logical alternative.
"I had my French blood, so I went back to France," Jean-Pierre said.
He spent a month taking a course on crepe-making at L'École des Chefs Crêpiers, Pizzaiolos et Glaciers, a culinary school in the northwestern region of France near Quimper, Brittany.
After that, he spent time touring creperies in Brittany, the confection's birthplace.  
Sweet and Savory Crepes
Today, after only two years of business, hungry crowds from all over the Greater Philadelphia area flock to Bonjour Creperie, eager to try a mouthwatering assortment of sweet and savory crepes.
Jean-Pierre's favorite is a classic crepe, dressed simply with a layer of butter, a sprinkle of sugar, and a hint of lime (his Brazilian touch).
"I do most of the cooking," Jean-Pierre shared. "I'm always searching for recipes and playing in the kitchen."
Though the Bisilliats cook together when on the road, Rebecca, a vegetarian, handles more of the administrative end of the business.
Her favorite recipe, however, is her very own creation: one crepe stuffed with spinach, goat cheese, strawberries or blueberries, and topped with roasted almonds and a drizzle of homemade balsamic vinaigrette.
Owning a Food Truck
Jean-Pierre says that initially, the hardest part of owning a food truck was mastering the routine: prepping for each event, cleaning up after gigs, and maintaining a fresh stock of ingredients.
Today, Jean-Pierre's biggest concern is for the food truck community.
"The townships don't give you support to work," he said. "I cannot work every day."
Jean-Pierre explained the challenges that face food truck vendors, who rely on private hires and events like Night Market Philadelphia.
Food Truck Sales in Winter
Even award-winning trucks like Bonjour struggle to find work during the cold northeastern winters.
This past winter, Jean-Pierre and Rebecca headed south in an effort to keep business afloat.
While the Bisilliats certainly have thought about one day parking their orange creperie-on-wheels and opening a restaurant, Jean-Pierre explains that a restaurant is "a whole different story, a different investment."
A description on the company's website reads: "Food should be fun; surprising; exciting. And above all, it should be enjoyed."
Jean-Pierre explains that the philosophy at Bonjour is "good quality first of all, then good service."
The Vendy Award is just one indicator of its success. Jean-Pierre knows what it takes to come out on top.
Besides what he refers to as "the deliciousness of my dessert," the presentation of the food itself and pleasant vibes are key in maintaining a loyal fan base. "I appreciate everyone who comes and stands in line, and I greet everyone."
Guest Contributor, Carly Hoilman
Follow Bonjour Creperie on Social media:
https://twitter.com/BonjourCreperie
https://www.facebook.com/BonjourCreperie?fref=nf
Owners: Jean-Pierre and Rebecca Bisilliat
Contact Info
When Sally Mengel and Rachel Moore debuted Loblolly Creamery in 2012, they could not have expected how wildly popular it would become in just two years. Both relied on previous restaurant experience as they tapped into the growing local, artisan food community in Little Rock and developed ice cream flavors that are created from scratch using locally-sourced, fresh ingredients. The partners work together amazingly well. Just sitting and talking, they regularly finish each other's thoughts in a back and forth banter that's both laid-back and charming.
When the Green Corner Store in Little Rock, AR, where Sally worked, found a period-accurate soda fountain, she jumped at the opportunity to sell ice cream treats and sodas, capturing a tradition from the store's past as a pharmacy. She knew she would need help, so she reached out to Rachel to help create a product, including her background in vegan and gluten free pastry.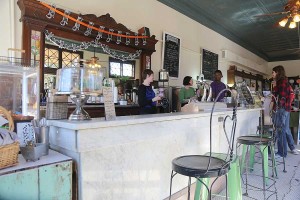 Loblolly Creamery was formed as an independent company, but it continues to use the soda fountain as its primary location. A bit of research revealed that there were no similar artisan ice cream businesses in Little Rock, "or even in the state really," says Rachel. "Nothing really using local ingredients and nothing really from scratch." Their commitment to healthy, fresh ingredients is what separates a Loblolly creation from the big-brand fare in the average grocery store. It also means more work for the pair — requiring 48 hours to produce any of their flavors. "Ice cream is a different process [than baking] because it takes 48 hours for us from start to finish," explains Rachel. "We spend the first day making the ice cream base and then we have to let it sit overnight and chill and age. Then once we churn it the following day, it's got to sit for six hours or so at least to harden again, so we can actually scoop it here at the soda fountain. So it's a mix of active work and down time. And a good amount of planning. We pretty much have to know what flavors we're going to make the weekend before the week we make them."
Their first hurdle when they began was creating their signature vanilla base. "I had a few recipes that I used before," says Rachel. "I kind of scaled them up and tweaked them a bit. I made lots and lots of vanilla ice cream at home and gave them to people and had them taste it. It took months and months to get it where I wanted it to be. Once I decided that flavor was where I wanted it to be, I just based everything off of that.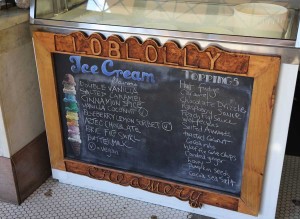 The process of picking additional flavors can take a bit of juggling as they work with what their customers want and what ingredients are available. "We get customer recommendations. Sometimes it's based around whatever the farmers are able to provide for us that week." Flavors change every day with a few exceptions: "We always have something chocolate. We always have the double vanilla and salted caramel. We try to have at least two vegan things all the time." The variety makes each visit to Loblolly a new adventure, while providing stability for those who like to stick to the traditional favorites.
A friendship with one of the chefs from local restaurant Trios led to a partnership and now Loblolly desserts can be found in other venues around the city. "We try to create things specific to their menu. They can have signature flavors that only they get or a rotating set." Their partners enjoy having specialty desserts for their customers, while Loblolly benefits from the advertisement. Each of their partners is a bit different. "South on Main prefers to have a rotating set. They usually have vanilla and chocolate sorbet and also seasonal flavors." The challenges they present are also fun for Sally and Rachel. "It's a lot of fun being able to tailor a menu item to someone else's menu."
The ladies of Loblolly are constantly working on marketing their desserts. One of their biggest mistakes early on was focusing time and money on what turned out to be low yield opportunities. "Being really careful about what marketing you invest in," according to Sally is the key to being successful in promoting their brand. "Know what works best in your area before you do anything," adds Rachel. What does work? According to Sally, "mostly things like Facebook events work really well." "And then doing special events like festivals," says Rachel. "Partnering with other businesses so you get the double advertising." "And getting written up in food blogs and articles. Being on TV and the radio," says Rachel. They both agree: "free PR is the best."
Their strategy takes legwork and a lot of personal networking, but it produces excellent results. Today, Loblolly Creamery produces ice cream for wholesale, special events, catering, and sale in their soda fountain. Their growth has been both strategic and customer driven. They sell pints (which customers favor) of ice cream through local markets and their custom soda fountain drinks can be found in several local restaurants including the popular Big Orange. "Our main thing is being a retail place for people to come enjoy a really good ice cream, sodas and sundaes and shakes. The wholesale thing is a just really nice PR and a good revenue base. We like the restaurant side of wholesale better than the grocery side because grocery is really competitive. Most of your costs come from packaging," says Sally. "It's very time intensive as well to package everything and label everything the way you want it and then you have to deliver it," says Rachel. Sally laughs, "We would be happier plopping dipping cabinets in places but people want the pints. So it's hard because that's what the customers want: they want the convenience. It's hard to train people out of the convenience."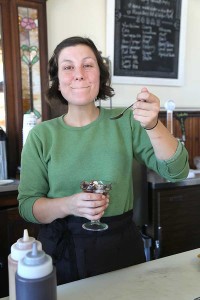 Loblolly's growth was so quick that it has left them scrambling to keep up with demand. Sally recommends that other small business owners be careful of "saying yes to too many things in the beginning. I think it's ok to just do one side of the business for a while and get those kinks out before you branch into a bunch of different things. We've had a steep learning curve since we opened the soda fountain; and doing wholesale, and catering, and special events all at the same time has been a lot."
The business is run on a small staff of "three people and then a couple of other staffers to help in the kitchen or serving ice cream." This is intentional. "If we were to grow that large to work with retailers like Kroger, we would lose control over our product and I'm not really comfortable with losing that amount of control," says Rachel. By staying small they can make headway into the foodie and artisan food markets in the local community while upholding their standards for the desserts they serve.
One of their best decisions was going to the Penn State Ice Cream Short Course. It was an intense few days that taught them the chemistry behind ice cream. "It's a lot easier now to trouble shoot," says Rachel. Their product has improved with what they learned, and it gave them an unexpected opportunity to compare their work with major ice cream producers across the country. The pair gained new confidence in their business and their community focus. "We're okay with our shelf-life being a month, which is against what most major companies strive for." Sally adds, "It's tied really strong to our neighborhood. The Green Corner Store is on South Main Street and it's been kind of revitalized since the tornado of 1999 [which did significant damage to the surrounding area]. We've created a community space for people to have ice cream. We have a non-profit flavor each month. The non-profit gets to create a flavor and then half of that sale goes to them. Then to educate the community about the non-profits is fun." They hold events in local parks and gardens and festivals. "We're the reigning non-traditional champ two years running at the Cornbread festival."
"The first time we ever made ice cream was for the cornbread festival in November of 2011," says Sally. "The day before the cornbread festival we had gotten an ice cream machine." "We had no time to practice," interjects Rachel. "It was our first ice cream," says Sally. "It was buttermilk and if we had compared it with today, I think I would have spit it out. But people loved it and it provided the push that we needed and the confidence to open the soda fountain. And we won our category with that."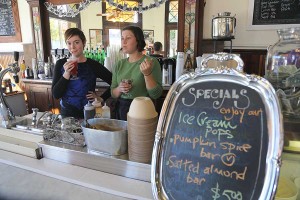 Loblolly has grown exceptionally well for a business that began as a fun experiment. Neither of its founders have a formal business education, but they know how to listen to their customers. They are constantly on the move looking for ways to grow. They recently debuted their food truck at a local food festival. "We sold out, it was really good." Expansion comes with its own growing pains. "We doubled our customers this year." They moved into a new kitchen in the spring and their focus now is strengthening their business processes to ensure they have the ability to continue meeting demand with quality products. "We are a very unique business so people are curious about us." Their location near the River Market District helps bring in tourists and foot traffic. They are also surrounded by other artisan businesses that draw in customers who like those local kinds of products.
To keep their business on solid footing, Sally and Rachel make use of the class offerings from the Arkansas Small Business and Technology Development Center and are about to work with the folks at SCORE reviewing plans and practices.
Where do they hope to be five years from now? "Five years from now hopefully we have that bar and everything squared away and maybe another location," says Rachel. "Having more dipping cabinets in coffee places, maybe expanding our wholesale restaurants," says Sally. "Me and Rachel have more time off." She laughs, "We're joking. That's not going to happen." "Just some time off," quips Rachel. "We're really heavily event driven," explains Sally. "A lot of businesses you open your store and hope that someone comes through the door, but we go out. We're doing something every week. Like this week we're going to be at the hot pepper eating contest at The Root Café, serving spicy ice cream and of course non-spicy ice cream." "I think that's what brings a lot of people in is coming to them," says Rachel.
Eventually they would like to add more flavors. Also one of their primary goals as they grow is to become more environmentally friendly – "freezers use a lot of energy." They would like to reach a place where "we are composting and recycling all of our waste." Because when it comes down to it, Loblolly Creamery is about the community. "Making this a happy place for all of the employees and a living wage for them if we can, that's what we strive for."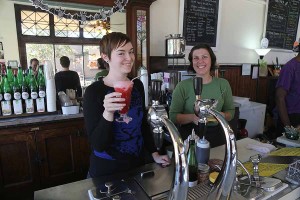 Sally and Rachel spend their weekends running around building relationships with their partners and customers and it can be draining: "keeping that momentum is the hardest part." But their efforts are worth it. A child giggles in the background as customers enjoy an ice cream cone. "It helps to know that we're not lugging coolers full of dry ice around town for no reason."
Sally and Rachel are making use of small business resources, like the Arkansas Small Business and Technology Development Center and SCORE, to make sure they grow their business right. Do you know what business development resources are in your area and are you making use of them to get input and perspective on your business plans and practices?
Loblolly is finding a number of ways to connect with and become a part of their local community. If you have a retail business, how are you engaging with your community? If you are an online business, how are you building connections with your online customers? And if yours is a B2B business, what are ways you are connecting with the business community? Are there things you could be doing that you are not doing now?
Sally and Rachel spend a lot of time bringing their ice cream to events, connecting with folks who may not know their product yet. This builds their brand recognition and brings customers to their retail outlets. What are ways you can go to where your potential customers are, introduce your product or service to them and gain new customers?
This post is part of the series Small Business Success Stories! Read more here.
Claes Jonasson is the owner and founder of Film & Company, LLC.  He likes to draw and write fiction when he can grab a few minutes between media and design projects. 
Stephanie Jonasson is a writer for Film & Company, LLC. When she is not helping small businesses define their brand, she enjoys curling up with a cup of tea and a good book. 
Together, Claes and Stephanie design websites and online presences for small businesses and non-profits, helping them tell their story and connect with customers.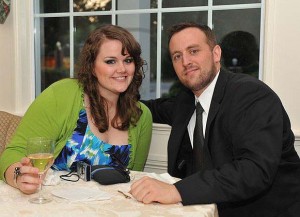 We had so much fun talking with the Beards that we weren't able to fit all of the good tips they shared in one post. So here is part two of our adventures with Michael Beard Photography.
Working with a couple on their wedding day is all about creating a positive customer experience that takes the stress out of their photos. This requires a hands-on level of responsiveness. "I find that, especially when it comes to brides, they need to hear from you immediately," says Jenna. "We are a big part of someone's wedding day. They want to feel that we are on the same page. If they email me with a question that I don't know the answer to right away, I'll respond back: 'I don't know but I'm looking into it.' They have enough to worry about with their wedding – stressing about every detail. We don't want photography to be something they are stressing about."
The build-up to the big day is crucial. Jenna and Michael will meet with their clients several times prior to a wedding, often to take engagement photos, but also to build a rapport that allows the couple to be comfortable with the Beards and the process. When it comes to the big day, they want to know how everything will be staged and the schedule so that they can be in the right places at the right time.
Their experience over the last several years has equipped them with an arsenal of tricks to get candid shots from even the shyest of subjects. It shows in their work. They have a very candid style, but each wedding they photograph shows the couple's personality and is unique to them. "The fact that we are a husband and wife team is really different," says Jenna. She takes the "emotional" perspective, while Michael is more focused on the tech end. They bring a male and female perspective to the occasion and this helps round out the spectrum of moments that are captured.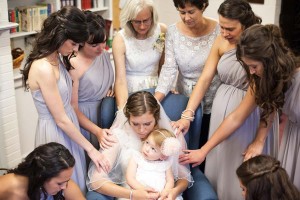 "We split up when we shoot weddings," Jenna explains. Brides feel comfortable with her taking photos as they get ready, while Michael spends time with the groomsmen. Moments happen quickly during weddings and having two people makes it easier for them to capture as much as possible. Because of their experience working with so many weddings, they are often called in to help answer questions as the day progresses. "There have been weddings where I've told them how to cut the cake."
Michael Beard Photography is hands on and their clients love the service. Happy couples often post their wedding pictures on Facebook and rave about their experience. Bridesmaids have also proven an excellent source of promotion and referral. They see the Beards photographing their friends' wedding and then want to hire the Beards when it comes time for their own weddings.
Jenna and Michael are picky about their clients, preferring to work with couples who are looking for the kind of services that they offer. "We pray a lot for our business and our clients," says Jenna. "We have heard horror stories where photographers are sued for missing a moment at a wedding. There are nightmare situations for any business. We have felt like we have been very blessed with our clients. We also have a really good contract." Jenna laughs. "So in case anyone does want to sue us, we have a seven-page contract that (hopefully) covers everything."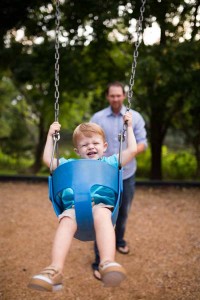 As the business continues to grow, Jenna and Michael constantly look for ways to develop their craft and maximize the products and services that they offer. One big step for them was to offer clients and their guests online the ability to purchase from online photo galleries, rather than just handing over a CD of pictures. This gives them instant feedback on which photos people liked and brings new revenue as they sell prints.
Pricing has proven a tricky issue for this small business. Jenna warns other entrepreneurs to: "Think for a long time about what you want to charge and what you are really worth. Because once you start it is really hard to jump price categories. When we jumped from $1500 to $2300, we could definitely tell. We were switching to someone who really saw the value in what we did, and didn't care so much about what we charged; as opposed to a bride who was like 'oh, we like your pictures and you're in our budget. Now we are trying to play catch-up a bit and market to a totally different client." Because so many of their customers come from referrals, changing their prices has left them "starting over in some ways." It also caused some tension as friends of former clients do not always understand why prices were increased. Yet, the change was needed, as the old prices didn't adequately account for the time involved in all aspects of working with their clients.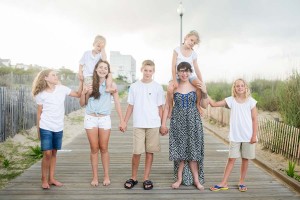 A significant number of customers find their way to Jenna and Michael online. Using SEO techniques on their blog has been a big marketing boost. Over the summer a post about a family portrait the Beards shot immediately brought in business from other vacationing families who found Michael Beard Photography through web searches. They were surprised by how similar the families were. Jenna describes: "A large family, vacationing in Delaware for a week, who haven't seen each other in a while, and they want that candid photograph style. We didn't think that we would find this tiny little niche over and over and over." Family portraits won't be their primary business, but it helps fill in gaps between weddings and engagement photography.
The rule of thumb when marketing yourself online, according to Jenna, is: "If you don't have a great shot, you don't have to put it out there." Tell your client's story with your best work. "Put out what you want to attract." If a client has a specialized request, the Beards' will photograph it, but it may not be used for marketing. "We definitely get the kind of client we are trying to market to if we put out the pictures that they are looking for."
Michael's key to success underpins their core philosophy as a couple: "Become an expert at what you do. Having people think of you as an expert in your field is really important." People are more likely to pay you (well) for your services if they see that you hold expertise in your field. "You see photographers who have been shooting the same for 30 years. We are always learning and always willing to adapt to new styles." The industry is ever evolving and the Beards keep up to remain relevant. "We have to be adaptable to whatever is happening in the industry." Jenna adds that a dose of grace is helpful. "Not being hard on yourself, because sometimes Michael's like 'I hate every picture I take.'" Sometimes it's important to step back and remember why they liked photography in the first place.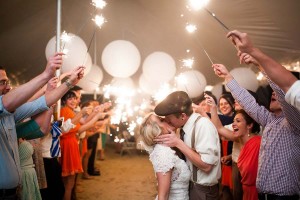 At the end of the day, Jenna says: "we want people to look at our photos and say, 'that looks like a Michael Beard Photography photo', but also feeling like their wedding day was special because it was photographed that way." What started as a favor for a friend three years ago is growing into a profitable business and the Beards are grateful for the opportunities they have had. "I feel really lucky that we were able to take a hobby of ours and turn it into a profitable business."
Jenna and Michael's website and social media efforts have helped them attract and engage potential clients they would otherwise never have met. Is the online presence of your business up-to-date and engaging? Can it be better?
Michael talks about becoming an expert in your field and also to continually improve, all with a mind to provide the best product, the best service for your clients. Do you have a plan for how to continue to grow in your field? What are 2 things you can do in the next 3 months that will help position/reinforce you as an expert?
Jenna and Michael found that their client base changed when they had to raise their prices, but raising prices was necessary for the sustainability of their business. Is your pricing set to truly cover costs and all variables included? If you need to raise prices, how will you communicate with your current clients? How will you find new ones that are a better fit for the new pricing structure?
This post is part of the series Small Business Success Stories! Read more here.
Claes Jonasson is the owner and founder of Film & Company, LLC.  He likes to draw and write fiction when he can grab a few minutes between media and design projects. 
Stephanie Jonasson is a writer for Film & Company, LLC. When she is not helping small businesses define their brand, she enjoys curling up with a cup of tea and a good book. 
Together, Claes and Stephanie design websites and online presences for small businesses and non-profits, helping them tell their story and connect with customers.
The first wedding Jenna and Michael photographed was for a friend who didn't have a budget for photography. Both were interested in photography as a hobby and maybe it was inevitable that they would turn wedding photography into a business: Michael Beard Photography. They are based in Delaware, but ready to travel the East Coast and beyond.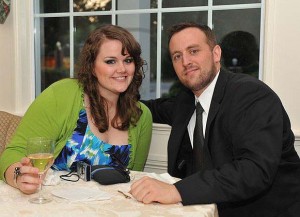 Jenna works closely with the brides to make sure all the important moments of the day are captured. That's the being at the right place at the right time portion. Michael is the techie who knows exactly how capture the right moment in all its glory for posterity.
That combination of social connection and technical perfection gives Jenna and Michael their edge. "We feel that everybody and their brother has a photography business these days," Jenna says. "We thought about it for a long time — we didn't want to be known as your everything photographer. We wanted to be known for a few key areas. We focus on wedding and family photography." Jenna stresses that she and her husband want to be amazing at a few things instead of okay at a lot of things.
Weddings and family photography are an art. As Jenna puts it: "You have to capture that first kiss and if you miss it, you've failed." There will be other kisses at the wedding, but not that first kiss! And that's just one of many unique moments. "Every wedding is different and we love it. It's a challenge."
Jenna and Michael started out by doing their homework. They researched other wedding photographers in the area. They connected with photographers online, built relationships, and learned from what worked in their businesses. That helped them set pricing lists and cover legal details.
Yet in all the research and planning, they didn't forget their clients. Says Jenna: "We look at this from the perspective of a bride and groom. When we got married we had to hire a photographer. Even now we connect with our clients because we've been through the same thing."
Weddings typically happen on weekends and there are only so many weekends in a year. So while a hard-working commercial photographer can do client shoots 5 days a week, a wedding photographer may only do one shoot in a week.
That has colored Jenna and Michael's approach to starting their business. They both work full-time in other jobs, allowing them to grow the business from of its revenue and let it find itself in the process.
From a client perspective, a wedding only seems to involve a few hours at the ceremony and reception. Michael says they learned that's not so: "The biggest mistake that we made was our pricing. We came at that a little too low." They needed to factor in all of the time that really went into the process before, during, and after the event: meeting with prospective clients, planning the shoot, pulling gear together, travel time, processing images and delivering proofs and images to clients. Pricing ultimately has to reflect all that.
Says Michael: "You think you're making a lot of money from the wedding, but you're really not. — We had to look at what do I want to make an hour." As a result, their lowest priced package went from $1500 to $2300.
This dynamic duo has photographed 16 weddings so far in 2013. In between, they schedule photo sessions with families or engaged couples on a case-by-case basis. The next goal is for Jenna to go full-time in the business, with Michael joining her eventually.
Along the way, they are refining their style and seek to work with clients who fit that style. That's a win-win. Clients are satisfied and it allows Jenna and Michael to be successful. Jenna explains: "The biggest thing we focus on is that our clients are a good fit for the way that we shoot. I just don't want someone to hire us because we're in their budget or we're close by. I want people to hire us because they like our style and the way that we capture things. It's the only way it works, because if they try to change who we are and how we shoot just because they see something on Pinterest that they like and they would rather have that picture than what we would take, that's not a good fit for us. That probably sounds terrible, but we have them in mind. We want to be sure they are happy with what we give to them."
Running a business takes a wide variety of skills. When you are a team, you have to figure out who will be responsible for what parts. "Our strengths work together really well. What I do with the business is mostly the business end of it," says Jenna. "I do all of our client interaction, emails, paperwork, contracts, finances and bookkeeping, marketing — all of that back end stuff is mostly my responsibility. That happened just naturally. That was what I was good at and I knew that kind of work. It wasn't like: Okay, you do this, this, and this. It just kind of happened."
The technical side of the business is handled by Michael who has experience in IT and is constantly researching new processes and techniques for them to use. "He's so patient with research where I have zero patience for research. He'll spend hours researching is this lens better than this lens? He'll buy and trade gear on the forums. He does all that good stuff."
Dividing up responsibilities in the business is vital, but not everything. Jenna continues: "The biggest thing was learning we need to have time for each other: we're not roommates, we're a married couple." Even with the pressure of starting up a business and each working a full-time day job, or maybe because of it, they have learned to set some boundaries: They set aside three days a week to work on the business and then use some of the other days to focus on their personal lives — all to keep a balance and not lose their creativity in the process of building a business.
Jenna and Michael have figured out what each of them is good at and gets excited about in the business and divided their functions based on that. If you are in a partnership or working with someone else in your business, how do you decide who does what? Is everyone able to work using their strengths?
Starting a business is inherently risky. For Jenna and Michael, a way to lessen the risk is to grow the business as it generates the funds needed, while they continue to work other jobs. How do you evaluate risks with starting or expanding your business? What steps are you taking to minimize risks?
When starting a business, we are often excited about our product or service. But are the prospective clients equally excited? Jenna and Michael found ways to relate to couples getting married through shared experiences. What can you do to better connect with your clients and see their perspective?
Read part 2 of the Beard's story here. 
This post is part of the series Small Business Success Stories! Read more here.
Claes Jonasson is the owner and founder of Film & Company, LLC.  He likes to draw and write fiction when he can grab a few minutes between media and design projects. 
Stephanie Jonasson is a writer for Film & Company, LLC. When she is not helping small businesses define their brand, she enjoys curling up with a cup of tea and a good book. 
Series: Small Business Successes!

Sometimes you can learn as much from watching as you can from doing. There are millions of small businesses in the US. All of them have experienced different successes and failures that you can learn from and be inspired by.
Stephanie Jonasson has been writing some small business profiles for us here at BSBH. They are the stories of other small business owners and solopreneurs who are experiencing the same things you are.
Do you know of a small business we should feature? Let us know in the comments below!
Follow the series here:
8 Flavors, a Soda, and More
Capturing Moments That Last
Capturing the Moment to Build a Business
Playing to Win
Constructing a Business: Thriving on Reputation
Mixing Marriage and Business: Does it Work?
How Old is Too Old to Start a New Business?
The Yale School of Ice Cream
Trust Makes the World Go 'Round
How One Man Went Head to Head With the Big Chain Stores and Won
Check back for more stories!
Jacob Carey is not a typical New York City business man. A trained surgical technologist and father of four grown children, Jacob Carey had reached a point in his career where he could be taking it easy. Instead, he and his friend, Mark Sherman, founded The Unity Games.
Jacob and Mark (that's Jacob on the left and Mark on the right in the picture) saw division in their community whereby children and teens were choosing "friends and enemies" based on racial, social, and economic lines. Gangs, drugs, and harsh economic realities make it increasingly difficult for children in these communities to succeed. Both Jacob and Mark have experience playing sports and saw the relationships that team activities can form. Barriers like race or economics mean little on the basketball court. Most importantly, lasting friendships form, creating a positive peer influence that lasts long after the game is done.
"Being an ex-athlete and being a coach, I got to see those things allow people to come together, and the friendships that are developed over the years of playing." Now, one weekend a year children from all over the East Coast gather on Staten Island to play basketball and make friends without barriers.
The Unity Games is a non-profit organization that succeeds in its mission because it asks a question that evades many small business owners: Who holds the purse strings?  The goal is to reach children with the message that "everyone out there is not the enemy; that they can get along with other people." That is their bottom line.  But the message only sticks if it's reinforced by their friends, making those peer relationships the keeper of the strings.
This knowledge is what distinguishes The Unity Games from similar programs, that try to create role models from celebrities or sports figures in an attempt to keep kids out of trouble. "Other programs, they bring someone in to talk to them and hand out some t-shirts. Our program is a bit different because it talks about real issues."  Not only that, it gets the kids
talking with each other about these issues in an environment where their ideas can become their own.
Their newly formed peer groups then reinforce these lessons and provide support throughout the year when they may be tempted.  "That's not what was happening before," says Jacob. "Kids would be on the same team and then they would disperse and wouldn't want to have anything to do with each other."
Their program is unique because it recognizes who has the purchasing power in their relationships with these kids. Children are shaped more by their peer groups than by almost any other source of influence. The Unity Games builds on this by building new peer groups to keep children engaged between games when the temptations at home are the most prevalent.
They are the cereal box of sports programs for kids. Like a cereal company will use flashy colors to attract the attention of children, The Unity Games offers tournament sports and celebrity appearances. But take a look at most cereals and you'll find a small ad somewhere on the box that markets it as a "whole grain" or "healthy grain" product, because the parent, and not the child, holds the purse strings. Kids are The Unity Games' end customers, but it's their peer groups that make the purchase.
Basketball provides an easy medium to build the relationships and team mindset that The Unity Games hopes to inspire.  "We picked a target group. And, if we can soften that target group before they harden their feelings about other people earlier in life, then we are meeting our goals."
Their specific program evolved through trial and error. Settling on Staten Island, they worked with the community to recruit volunteers to run everything from registration to coaching. "If we had started in Manhattan, we would have failed. If we had started in Queens we would have failed." Their community on Staten Island was already tight knit and people of all ages happily came forward to volunteer to work with the kids. Families were engaged in a common activity with their children and grandchildren in a new way. By starting the Games in this area, they were able to see how the program would work without having to build a community from scratch.
Jacob offers a word of warning to new business owners and founders: be careful who you share your ideas with. His biggest mistake in founding The Unity Games was not trade marking their logo soon enough. Some of their plans and design ideas were stolen by people who they approached early on for investment.  He advises small businesses to keep in mind the goal that you are trying to accomplish, keep loyal and dedicated people with you, and keep your finances in good health.
The Unity Games has a powerful influence in the lives of the children who participate every year.  "Seeing some of them grow up now and go to college. You see black and white kids get together with other ethnic groups and they're all the same age and they come back every year. These are college kids who could be anywhere else on a March day and they come to The Unity Games. They want to be volunteers and coaches," says Jacob.  "We know we are meeting our goals because every year they come back." He says it's important to remember that "we don't keep them. What we do keeps them."
By providing a space for lasting relationships to be formed, they engage with these kids in a way that they couldn't in a more direct approach. Each year they focus on a theme that highlights issues that kids face in their everyday lives: teen rights, drug use, gangs, etc. They're not candy coating reality; they're providing the foundation for long-term success.
The end customers for The Unity Games are the individual children, but it's their peer groups that ultimately decide whether their message will be taken to heart. Who are your end customers? Are they the same people who make the purchasing decisions? 
If your end customers and purchasers are different, how are you marketing to both? 
This post is part of the series Small Business Success Stories! Follow the rest of the series here. 
Stephanie Jonasson is a writer for Film & Company, LLC. When she is not helping small businesses define their brand, she enjoys curling up with a cup of tea and a good book. 
Rachel Lee-Carey is a producer for Film & Company, LLC. In her spare time she likes traveling and embarking on culinary adventures.